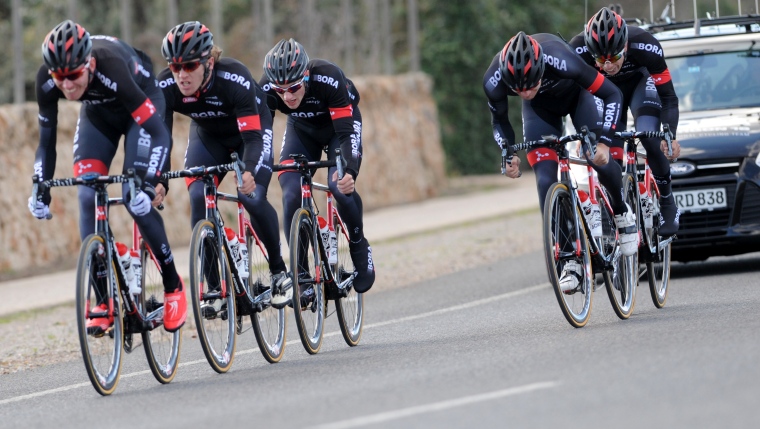 Sam Bennett sits on the wheel of Shane Archbold who's locked onto Zak Dempster's wheel during Bora-Argon 18 sprint training.
Sam Bennett's Bora-Argon 18 team has developed a sprint train for the Irish rider and it hasn't happened by chance, as this video illustrates.
The German-registered squad is a well-drilled unit that leaves absolutely nothing to chance.
This clip is a great behind-the-scenes peak at the team where they talk about early-season planning, the goal of team-building – and what Bennett needs and expects in the sprint.
"Can you imagine how much trust you need when you have to follow your lead-out rider in a crazy bunch sprint, where you know it all comes down to one last corner," explains one of the team's staff.
"We force the guys to focus; Sam Bennett always rides with Zak (Dempster) and Rudi (Sellig); he has to learn how they brake and accelerate and it's important to build this trust.
"Similarly, Shane Archbold; to me it seems Shane always knows exactly what Sam needs to win and how to help him to relax and to prepare for the sprint."
Have a look