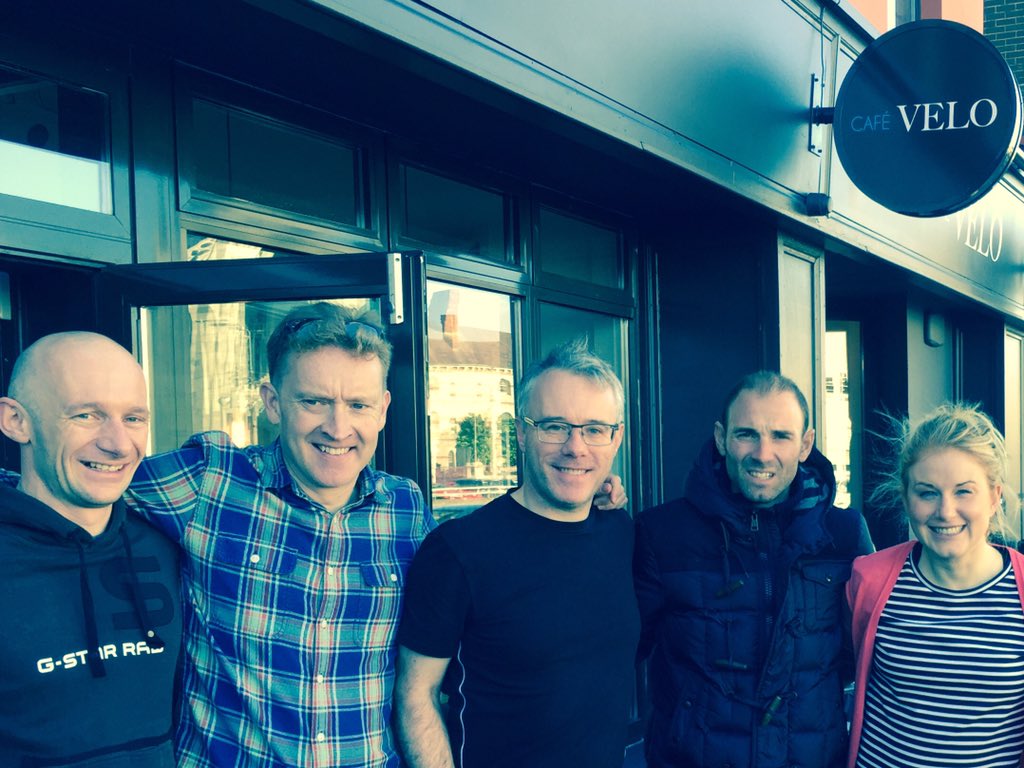 John Horgan (Aquablue), Russell Treacy (St Finbarr's), Mark Lyons (De Ronde Van Cork), Alejandro Valverde (Movistar) and Siobhán Horgan (Aquablue) all looking dapper outside Café Velo in Cork on Saturday morning. Valverde is in Cork this weekend visiting his two sons who are studying English in the city (Photo courtesy of Siobhán Horgan)
By Brian Canty
If Alejandro Valverde's sons follow the career path of their dad then don't be one bit surprised to hear them speaking with Cork accents on television in a few years from now.
The Spanish superstar was in one of city's best-known cafes, Café Velo on George's Quay, while spending this weekend in Cork to check up on two of his sons studying English there.
Rob Horgan, who owns the popular eatery in the city, noticed the former Vuelta A Espana winner and one-day specialist.
And within minutes of his arrival a swarm of followers had assembled.
"He couldn't have been any more obliging and polite, a complete gent," said Horgan.
"He stayed for around an hour and a half and his boys (three of them) were absolutely lovely as well.
"Alejandro doesn't speak much English but his wife was there and she did so there was no problem.
"They're in Cork for the weekend; his two eldest boys are in school at the moment here.
"They're in second year here learning English – and are doing really well."
In the café at the time also were Cork riders Russell Treacy (St Finbarr's), Siobhán and John Horgan (Aquablue) as well as Mark Lyons (De Ronde Van Cork) and they also got photos taken with the Spaniard.
"My son Ben is 10 and was starstruck by him," continued Rob. "He wants to be a professional cyclist as well!"
Valverde ended the season at the top of the UCI rankings by some considerable margin; his 675 points a massive 201 points ahead of next placed man Joaquin Rodriguez.
A divisive character, he remains one of the very best riders in the world at the aged of 35 years and having served a two-year doping ban.
The Valverde's with café owner Rob Horgan and his own son Ben.