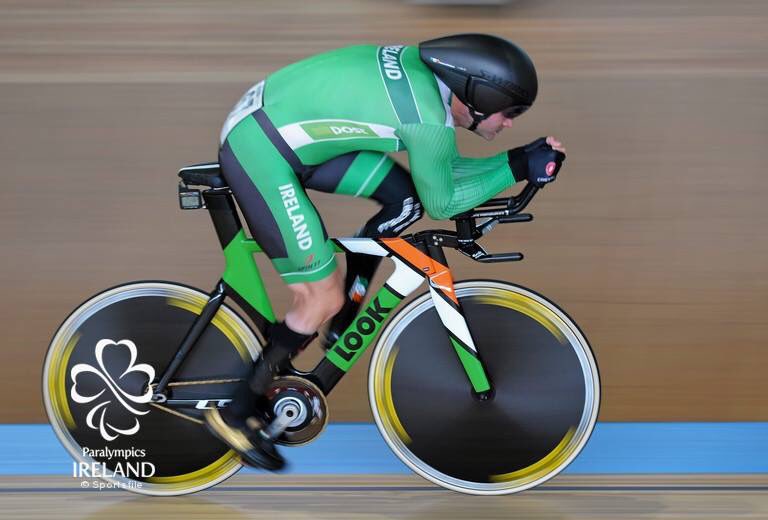 Irish paralympian Colin Lynch claimed a brilliant silver medal at the recent World Championships in Italy, one of two riders to bring home silverware. Aside from the medals, the national squad performed superbly, shattering a number of personal bests. (Picture courtesy of Paralympics Ireland)
By Brian Canty
The Irish Paralympic team enjoyed a superb campaign at the World Championships in Italy recently, bagging silver and bronze medals as well as a ton of experience in the run-up to the Rio Games.
The medals came courtesy of Colin Lynch's silver in the MC2 3k pursuit and bronze for Eoin Clifford in the MC3 3k pursuit.
The tandem pairs of sighted pilot Sean Hahessy and Peter Ryan and Eve McCrystal and Katie-George Dunleavy were 9th and 4th respectively, in their four and three-kilometre pursuits.
With the Individual Pursuit being the big focus of the Paralympic programme, the medals will have been a massive bonus but it was the actual performances of the medal-winners in question that pleased coach Neil Delahaye most.
"It's great to see hard work rewarded," he said.
"To deliver two PBs in qualification, I couldn't have asked for more. They squeezed everything out of themselves."
Indeed, in his qualifying round, Lynch knocked a sensational four seconds off his PB to qualify for the gold medal ride off which he would lose to Canadian Tristan Chernove.
Similarly,  Galway Bay CC man Clifford knocked three seconds off his personal best to get to the medal ride off.
The multiple World Champion qualified for the final as the third fastest rider and in a trademark move, trailed his adversary for the majority of the race, only moving ahead in the final two laps.
"My confidence has been quite low over the past few months, so I think I contributed least to this medal, it was down to my family, teammates and support staff who have just kept going," he gushed afterwards.
"On the camps when my times haven't been good, and my knee was killing me a lot the staff and my teammates gave me confidence.
"Also I only got to see my daughter three times in the last few months, my wife has been so supportive.
"This medal, it wasn't my legs this time; it was my family and team. In a way this medal means more to me than some of the gold medals I won."
The same rider was also in action a day later in the scratch race, aiming to defend the gold medal he won last year but in a race where he was heavily-marked, he could only manage 5th.
In the same event, Colin Lynch finished 13th.
In the 1k tandem time-trials both pairings claimed personal bests, Ryan and Hahessy's time of  1.06.36 being just a shade outside the national record.
Two medals and seven top ten results rounds off a successful world championship campaign for the Irish team, with the next track competition for the paracyclists being the Paralympic Games in September.
"We are happy with our performances," continued Delahaye.
"Particularly in the targeted events, so we are confident that we are making progress, but there is still work to do before Rio, fine tuning to be done.
"The trajectory of improvement our bikes have made in time gains in our PBs is in excess of our competitors. Our improvement is greater, but we still have a gap to bridge.
"While we went better than ever; we need to go better again for the Games."