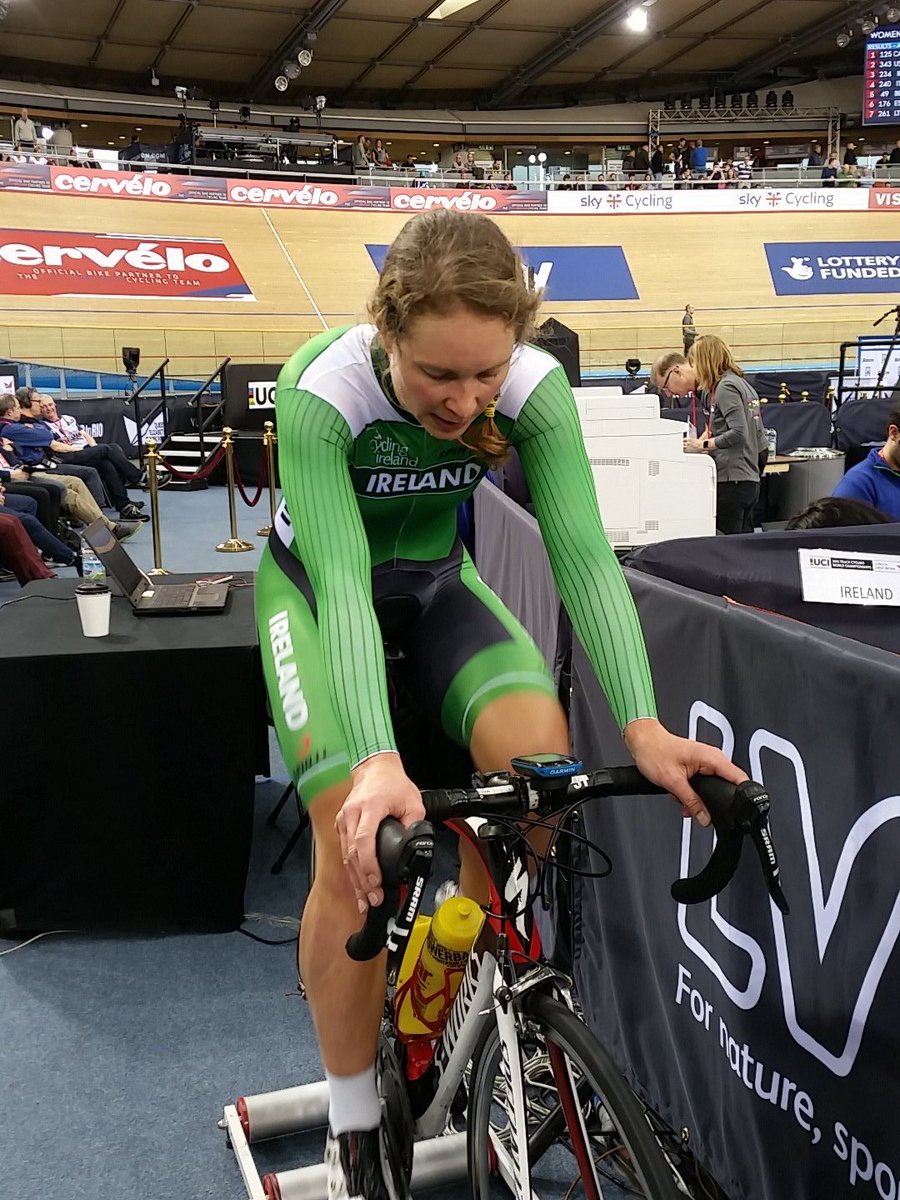 Mel Spath put in a very impressive ride in the UCI World Track Championships in London today. The German-born Irish rider finished seventh in the individual pursuit on what was a good sign for the week ahead. Tomorrow she goes in the women's team pursuit qualifying round.
By Brian Canty
The Irish team enjoyed a very solid start to this week's UCI World Track Championships in London with Mel Spath finishing seventh in the Individual Pursuit and Felix English taking 10th in the points race today.
Though nothing to get madly excited about, it must be remembered Spath was making her debut at this level and English had a torrid and injury-plagued 2015 and only returned to the track last winter after a number of years away.
Spath clocked a time of 3:40 for the three-kilometre test which was just under nine seconds slower than the fastest qualifier, Rebecca Wiasak of Austria. She would eventually claim the gold medal.
With only the top four making the medal ride-offs, Spath's involvement ended there but she'll be back in action in the team pursuit qualifying rounds tomorrow.
She was in rueful mood after, though did take the positives.
"I wish I had done a little bit better, I'd have liked to have cracked the 3.39 market, but I can't be too unhappy with it.
"I gave it my all and it was the best I could do on the day," she said.
"We had a plan of giving it all in this one because you don't get a chance like this very often, so I thought 'okay, if I get this chance I'll go for it, I will not hold back'."
Indeed, after a superb middle kilometre, Spath looked great but paid for her efforts in the final 1,000 metres.
"I looked at the lap counter and I said maybe this is five laps to go, and it was six laps to go, so the pain was starting to come a little bit early."
Elsewhere, English rode a superb race over the 15 kilometres but when four riders gained a lap and five more followed it was a race for 10th.
English actually managed to get a lap of his own back but six contested the finish and he wasn't one of them, instead he was 10th over the line in a highly impressive and gutsy display.
Sebastien Mora of Spain took the gold medal there from Ignacio Prado (Mexico) and Claudio Imhof (Switzerland) rounding out the podium.
The Irish team are back in action tomorrow with Shannon McCurley going in the keirin and Lydia Boylan in the scratch race before the women's team pursuit squad take to the boards.
The team for the pursuit is Caroline Ryan, Josie Knight, Lydia Boylan and Spath and they're off around 1pm. Eimear Moran is the reserve there.
McCurley goes at 2.40pm and Boylan goes at 7.20pm.
English rode a superb race over the 15 kilometres but when four riders gained a lap and five more followed it was a race for 10th.