Is it steep enough lads? Riders battle the gradient on Coomanaspic during the 2014 An Post Rás. The climb, near Portmagee in Kerry, is one of the hardest climbs in the country and demands some serious fitness to get over it (Photo: Stephen Kelleghan)

How many of Irish cycling's toughest climbs have you ridden?
Ireland has some of the most beautiful scenery for cycling in the world and if we only had the weather to match it we'd have pro teams coming here on training camps (well, maybe).
Though we might not have the 30-kilometre climbs of Tenerife, or the endless rolling hills of Tuscany, we've still got some dramatic scenery, deserted roads – and some pretty hefty climbs too.
Some of the latter may be classic ramps used in the country's biggest road races while others are on private land and not safe to put humans up, let alone watch them race down.
We've gathered a collection of some of the ones you have to get up this winter…
1 Mamore Gap
Where: Near Buncrana, Donegal
Length: 1.1kilometre
Maximum gradient: 22%
Average gradient: 12.4%
Hazards: Loose chippings, sheep, strong winds
The Mamore Gap was last used in the An Post Rás — Ireland's only UCI-ranked cycling race — in 2012 and the feedback afterwards was one of utter shock at how difficult it was.
The climb itself is short and at 1.1 kilometres it lacks the length of all the others that have made this list.
What it lacks in length, however, it makes up for in how steep it is and not only will you need to be in exceptionally good shape to get over the top of it, you'll have to face up to the fact that there are most likely going to be flocks of sheep all over the road.
So be careful!
---
A message from Cigala Cycling
We've built a strong reputation for successfully coaching cyclists in Ireland of all abilities and we'd love if you joined us. Cigala Cycling's clients include international road riders, leisure cyclists and everyone in between.
If you're trying to improve in a bid to win races or you simply want to lose weight and generally get stronger on the bike, why not check out our coaching packages from €100 per month?
We specialise in quality training that cuts out time wasting and maximises the time you have available to you to train, however short that may be. Check us out today at cigalacycling.com
---
2 Healy Pass
Where: Adrigole Co Cork and/or Laragh, Co Kerry
Length: 7 kilometres
Maximum gradient: 11%
Average gradient: 5%
Hazards: Loose chippings, sheep, strong winds, dangerous bends, traffic, surface water, falling rock.
The Healy Pass is one of the most spectacular roads in the country and a must-do for cyclists.
The original track, called the Kerry Pass, was cut during the Great Famine as a poor relief public works project but nowadays is as busy with tourists and locals as it is with cyclists – so be warned, it's a busy road.
The climb is steady but not steep, save for a few short sections – particularly if travelling from the Kerry side.
The descent is dangerous though — for the myriad reasons outlined above.
Crashes during charity sportives and races are not uncommon.
The fact you have to go over Caha pass (8 kilometres) beforehand makes it one of the true monstrous climbs.
3 Mount Leinster
Where: Bunclody, Wexford.
Length: 13 kilometres
Maximum gradient: 16.3%
Average gradient: 6%
Hazards: Grass, sheep, strong winds, dangerous bends, traffic, surface water.
The highest of the Blackstairs mountains is impossible to miss on a clear day as RTÉ have their TV transmitter at the summit. Other than that, there's very little else up here.
It looks comparable to some medium length Tour de France climbs and though the first few kilometres up to the car park are gentle, the pain soon sets in and the road is as unrelenting as it is narrow.
That last km to rte mast in mount Leinster on private road is absolute hell.Toughest by far
The climb has been used in stages of the Tour of Ireland and in the Rás several times.
It may be climbed from the Borris side in County Carlow or the Bunclody side in County Wexford.
Ascending from Borris the climb is 11km long and has an average gradient of 6.9%.
The last two kilometres are gruelling and reach a gradient of almost 16%.
Although the climb from Bunclody is slightly longer at 13 km its average gradient is 6%.
The last kilometre of this climb is difficult with a gradient of 16.3% but once you hit the private road to the mast, it's a different story, running straight into an impossibly steep section.
To get the top requires a very high level of fitness.
4 Mullaghanish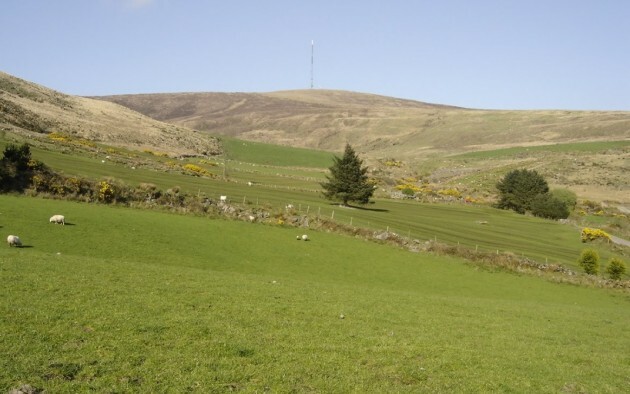 Where: Ballyvourney, Cork
Length: 7 kilometres
Maximum gradient: 19%
Average gradient: 7.5%
Hazards: Strong winds towards the top (always), sheep, cattle grids, an angry farmer, sharp turns, steep descent, oncoming traffic, a dog.
Park the car at the Mills Inn in Ballyvourney and the road up behind the bar/restaurant will take you where you're headed, though you do branch left after around 1.5km.
Up to here it's straight forward, save for a pesky dog who always wants to come along too — until he sees the gradient.
The road rises upwards all the time and there's absolutely no respite until you have to stop after around 3 kilometres to open the gate onto the state-owned land that houses one of RTÉ's five original TV transmitters.
Then the real climbing starts and won't stop for at least half an hour. The road surface is poor, particularly in winter where fine gravel gathers at the lower slopes and skids are common.
You'll cross two — maybe even three — cattle grids  which are slippery so be sure to be in the saddle for this.
The last few hairpins are truly awful but the views at the top are spectacular.
The descent is over all too quickly, and be extremely careful on the bends at the start.
5 Wicklow Gap
Where: Lauragh, Co. Wicklow
Length: 7 kilometres
Maximum gradient: 16%
Average gradient: 5%
Hazards: Strong winds towards the top (always), sheep, steep descent, oncoming traffic.
What makes the Wicklow Gap so difficult is just how long and unrelenting and exposed it is.
In total, you climb 340 metres and for that reason alone it's one of the most feared climbs in the country.
A regular fixture in the likes of the An Post Rás, the climb of the Wicklow Gap is often key in deciding the race.
From the start point in Lauragh the road winds its way upwards, at the top of which the views of the surrounding countryside are truly awesome.
6 Glengesh Pass
This is featured in Rás Dun nan Gall every year and is a favourite amongst Irish cycling folk.
The countryside is breathtaking and the climb is visible from miles around as it snakes its way up through the valley.
Where: Ardara, Co. Donegal
Length: 2 kilometres
Maximum gradient: 25.1%
Average gradient: 10.7%
Hazards: Strong winds towards the top (always), sheep, steep descent, oncoming traffic.
7 Glenmalure
Anyone who has ever ridden the Shay Elliott will know about the climb to Glenmalure as it just seems to go on and on and on.
A short (ish) and sharp climb set in a stunning valley, the Shay Elliott climb is in a wonderful setting near the village of Glenmalure.
It's just over 3 kilometres in length but in this this distance you climb 245 meters.
The average percentage thus is 7.6 %.
Length: 3.2 kilometres
Maximum gradient: 10%
Average gradient: 7.6%
Hazards: Strong winds towards the top, sheep, cow shit on the steep descent, oncoming traffic.
8 Coomanaspic
This brute made an appearance in the An Post Rás in 2014 as well as the Kerry Group Rás Mumhan last year.
In the latter, Bryan McCrystal (Wheelworx-ASEA) eventually won the stage from Sean McKenna (An Post Chain Reaction and Aquablue) while Paddy Bevin (Cannondale-Garmin) was victorious in that hellishly hard Rás stage 11 months earlier.
The climb from either side isn't particularly long but at it's steepest the climb reaches gradients of 26%.
The rain didn't make it any worse on either of the two most recent times races went over it and thank God for that is all we can say.
Where: Portmagee
Length: 2.5k
Maximum gradient: 20% (depending on what side you come up)
Average gradient: 9%
Hazards: Strong winds towards the top (always), sheep, steep descent, oncoming traffic.
9 Slieve Maan
Used in the Wicklow 200 every year, it's a fearsome animal with a maximum gradient of a shade under 10% but it drags on for a leg-sapping 4 kilometres.
Perhaps yours truly found it so difficult because being unfit was one thing but coming 120 kilometres into the country's hardest sportive made it no less torturous.
Gearing-wise you'll probably need all of your 39/25 but as you start the climb you go through some truly idyllic tree-lined mountain countryside.
A worthy entrant here.
Where: Wicklow, somewhere…
Length: 4k
Maximum gradient: 15%
Average gradient: 6%